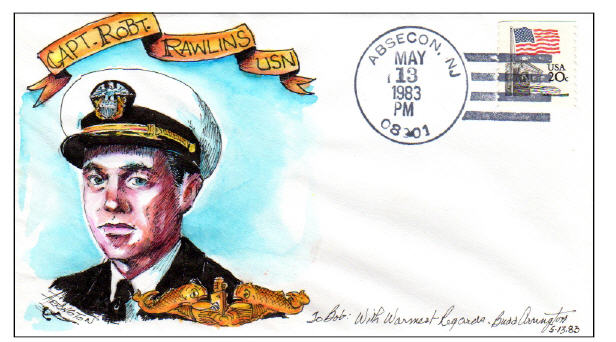 The above one-of-a-kind hand-painted cachet by Budd Arrington honors Bob Rawlins.
The cover appears as the lead in the April issue of CoverAge, the newsletter of the USCS USS Saginaw Chapter . Bob passed away on March 30. He was very active in local shows and local philately as well as a national medal winner.
Bob was an avid exhibitor, with collections as far afield as 19th Century Navy mail, rocket mail, submarine mail, polar exploration, the sinking of the USS Maine, and ship cancellations and cachets. He could always be counted on to help a local show find exhibits, to freely share his historical knowledge in his areas of interest.
Bob spent his lifetime in service to others, from graduation from the Naval Academy in 1947, to his many volunteer activities since his retirement from the Navy in 1977. He served the Universal Ship Cancellation Society local chapter in various leadership positions from 1977 until the day before he passed away. For the past 20 years until his death, Bob was also an active volunteer at the Healdsburg Museum. He will be missed by many.