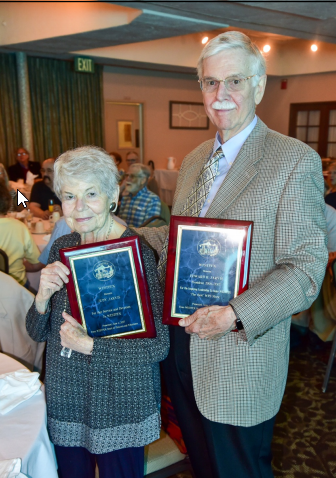 WESTPEX 2017 was another smashing success, garnering praise from APS Executive Director Scott English and just about everyone who attended. The show theme was the 50th anniversary of the "Summer of Love" in San Francisco. At the opening if the show and at social events, 70-years old hippies were reliving their youth, and everyone had a great time!
1967 was a year of change. Young people were just coming into their own, and their numbers were huge (we now refer to that generation as "boomers" after the post-WWII baby boom). The Vietnam War was dividing the nation, giving birth to the "Make Love, Not War" slogan. The Free Speech Movement was morphing into the "Turn on, tune in, drop out" culture. So when Ed Jarvis announced his resignation aa Chairman of the WESTPEX Board, it seemed right that the WESTPEX show theme reflected that era of rapid change 50 years ago.
Ed has served the show for 16 years as Chairman, longer than anyone before him. He has added several dimensions to the show which has propelled WESTPEX to the top of the WSP show circuit. The key to such success, if you asked Ed, is the large committee of volunteers. If you asked the volunteers, they would say that it is because Ed makes them feel valued for the time and effort they spend on the show.
Judy Jarvis has provided her special talents to make the banquet functions delicious and the special exhibition awards the envy of every other stamp show for the [ast 16 years. Judy is relinquishing her tasks and stepping down from the Board as well.