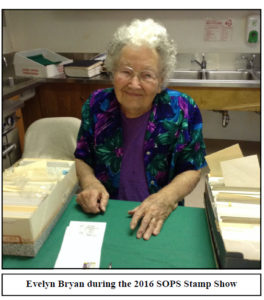 Editor's Note: Every stamp club has that special person who serves the hobby and her club tirelessly for many years. Her dear friend Nancy Swan sent the following to the Council Courier.
The Southern Oregon Philatelic Society is mourning and remembering our long-time cachet cover designer and chair Evelyn Bryan who passed away Thursday, August 3 at the age of 97.
Despite her failing health, Evelyn had already been planning the covers for SOPEX 2018. She will be missed for her cheery attitude, years of faithful service, artistic ability, kindness, uncomplaining determination, and community involvement.
Evelyn came to the Rogue Valley as a child and was raised in Jacksonville. She and her husband Don celebrated their 70th-anniversary last fall and were honored with a special cake at our club's Christmas dinner. They joined the stamp club in 1968 to keep their recently drafted son apprised of stamp happenings! (He is now our longest term member.)
For years Evelyn coordinated the stamp club's Christmas Party, and the Bryans hosted the S.O.P.S. July picnic under their shady trees. Evelyn also worked with the Cub Scouts and our club's youth on stamp collecting. She became the club historian for years.
In 1970 Evelyn began designing the Pear Blossom Festival cachet covers. She was our club's representative to the Pear Blossom Committee providing the liaison for our SOPEX as a Pear Blossom Event. Each year she designed the cachet covers and arranged with the post office for special postmarks. Evie's "pear people" drawings cleverly depicted each year's theme.
Evelyn also made special cakes and designed cachet covers for philatelic related community events such as the Jacksonville Post Office birthday, Central Point post office building dedication, the Applegate Trail Centennial, Wings Over Oregon – the anniversary of Oregon's first airmail flight (from Medford), and the 2001 Anniversary of Commercial Air Mail through Medford's Airport. When PIPEX was held in Medford in 1974, Evelyn designed three different cachets celebrating the area's historical, artistic and scenic attributes. This grew into annual S.O.P.S. cachet covers, the "Southern Oregon Historical Series," honoring some of the region's special features.
In 1982, Evelyn was honored as a "club spark plug" in Western Stamp Collector, and in 2006 she received a Federation Club Service Award. The club's cachet cover trophy is named in her honor. Evelyn represented the "heart of the hobby," encouraging collector fellowship, youth service, club service, and community recognition of stamp collecting!
Jim Bryan is currently designing a cachet cover to honor his mom. She will be missed by many.