Fellow Collectors:
"It is my observation that many of us take the hobby and our participation in it with such seriousness that we neglect the concept that the hobby should be fun." John M. Hotchner, The American Stamp Dealer & Collector, No. 114 Oct 2017, p 19
Let us resolve in 2018 to have fun with our stamp collecting. Let us decide to spend a few days getting lost in our collections and, also, to spend a few hours at a few shows enjoying the people who are stamp collectors or stamp dealers. Let us take some of our favorite philatelic items and show them off at club show-and-tell, with talks or with new, creative exhibits.
Let me suggest that you thoroughly investigate one of your covers. Bob Grosch in Redding does this. He researches the senders and the addressees. Fascinating stuff!
Two examples that I have: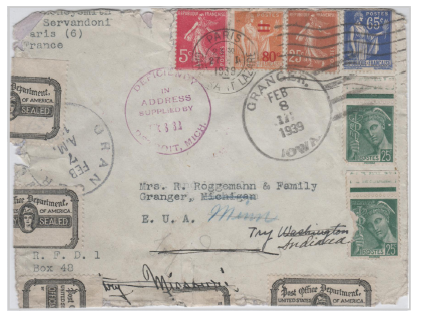 The Granger cover (above) which I bought for the good reason that it, well, it was just interesting and unusual. I bought it at a PENPEX in the last millennium because it intrigued me, it was the last half hour of the show and I still had few bucks left.
I like messy covers, but after organizing the messiness (postmarks, forwarding, and labels), it stayed in my eclectic covers cigar box. Years later I went on the internet to learn about the towns called Granger. There are, or were, 17 in the USA, and the cover went to five. Of these one has dinosaur statues in places around town and one has an elephant cemetery from when a circus wintered there. OK, not philatelic but FUN knowledge.
Would that I could find 14 more and have a most unusual one-frame. OK, probably not even one more. Nope!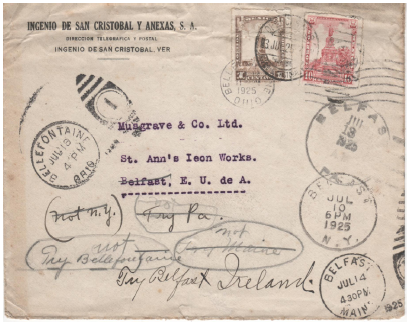 Then the Belfast cover (above) appeared. This one went to three Belfast's until the US ran out of Belfast's, I guess, and the PO tried a Bellfountaine. See the conclusion on the cover. But, anyway, one of these places was burned by the British in 1779, and one has the shortest street in the world. FUN!
Welcome to 2018. May we all enjoy philately in the coming year. There are seven local/regional shows and two WSP shows in the Council area. I hope to see you at a few of them.
Larry Crain
"Introduce a Fellow Collector to your next Club Meeting. The hobby grows richer when we expand our social contacts and friendships."