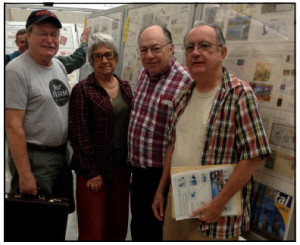 Thanks to participation and attendance from throughout the San Francisco Bay Area, the Contra Costa Alameda clubs pulled together to bring back swiggy app download COALPEX after a 7-year pause. Last held in 2008, the "hole" in the show schedule was felt by dealers, exhibitors and collectors in the Bay Area.
COALPEX was brought back largely by the extraordinary efforts of Jim Dempsey and the leadership of the Fremont club Past and current Presidents Ken Goss and David Epps. Randy Tuuri and Nigel Moriarty of the East Bay club provided needed show management expertise, and Gayle Hamilton (San Leandro club) and Michael Jordan (Diablo Valley club) were among many volunteers
who helped at the Welcome Table.
COALPEX had been held together for a few years by Charles Kasdorf following the passing of Leonard Holmsten, who had led COALPEX for many years. The resurrected COALPEX for 2015 was pronounced a success by all participants. If you missed this year, place a big red circle on your phone calendar for June 11-12, 2016, so that you don't miss it!
A special thanks goes out to Southern Oregon's Larry Crain, Bradley Fritts and Nancy Swan drove from Medford to support COALPEX with their exhibits and participation. Barbara Herbert of the Alameda club worked tirelessly at set-up, take-down and as a guide for our Oregon guests.