The APS AmeriStamp Expo was held in Reno March 3-5 at the Atlantis Hotel. AmeriStamp Expo is a special APS exhibition showcasing One-Frame exhibits. In addition to a general competition, the show features a Champion of Champions (CofC) class that pits all of the OFE Grand Award winners from each of the national-level shows.
Another special event at the show is a Team Competition among teams of five formed by exhibitors. The teams score points for medal level achieved, new exhibits/exhibitors and special awards. The team with the best total score wins. It is a friendly, but very serious, competition!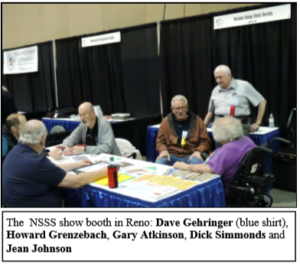 The Collectors Club of San Francisco fielded three teams of exhibitors, and all three teams did exceptionally well.
The show had 210 Frames:
29 Multi-frame Exhibits in 113 Frames
71 One-frame Exhibits in the Open competition
21 One-frame "Champions" in the CofC competition
5 One-frame Youth Exhibits Plus a number of non-competitive exhibits.
Council Members who exhibited at the APS Show bringing home LOOT:
Multi-frame Competition
Terri Edwards, Best Postcard Exhibit, and GOLD
Richard Dreiling, Multi-frame LARGE VERMEIL
One-Frame Competition
Paul Allen, LARGE GOLD (2 exhibits)
Akthem Al-Manaseer, LARGE GOLD
Norris R. Dyer, LARGE GOLD
Vesma Grinfelds, LARGE GOLD + Special Prize
Clyde Homen, LARGE GOLD
Sandeep Jaiswal, LARGE GOLD + Special Prize
Didier LeGall, LARGE GOLD
David McNamee, LARGE GOLD + Special Prize
Behruz Nassre-Esfahani, LARGE GOLD
Edward Cahoon, GOLD
Sandeep Jaiswal, GOLD
Edward Laveroni, GOLD
Stephen Schumann, GOLD
James Busse, LARGE VERMEIL+ Special Prize
Gordon Eubanks, LARGE VERMEIL
Richard Rose, LARGE VERMEIL
Blue team:
Richard B. Rose, The Hejaz Railway Stamps, 1904-1925, Large Vermeil
Richard B. Rose, The Hejaz Railway Stamps, 1904-1925, Large Vermeil
Akthem Al-Manaseer, The First Issue of Transjordan, Large Gold
James Busse, Bosnia-Herzegovina Tobacco Tax Paid Revenues, Large Vermeil + Special Prize
Clyde Homen, The British Concession at Chinde, Large Gold
Paul Allen, Victorian Indian Mai to West Indian Ocean Destinations, Large Gold
Red team:
David McNamee, Conquest of the Zulu Kingdom 1876-1897, Large Gold + Special Prize
Matthew Kewriga, Danish West Indies Mail to Denmark 1842-1877, Large Gold Gordon Eubanks, Uses of the "Humble" ½ Cent Benjamin Franklin Stamp of 1938, Large Vermeiltutuapp regular
Sandeep Jaiswal, The First Issue of Dungarpur, Gold + Special Prize
Behruz Nassre-Esfahani, Persia:  The First Portrait Issue of Nasser-eddin
Shah Qajar, Large Gold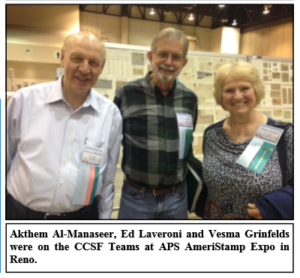 White team:  Team Winners!!
Vesma Grinfelds, Latvia:  The First Banknote Issue and Its Overprints, Large Gold + Special Prize
Ed Laveroni, San Francisco to Mt. Tamalpais & "The Crookedest Railroad in the World," Gold
Stephen Schumann, New Zealand Prison of War Air Letter Cards, Gold
Paul Allen, Victorian Indian Mail to the "Far East," Large Gold
Didier LeGall, The First 5/- Stamp of Great Britain:  Stamp, Postal History and Use abroad,  Large Gold

We all know how magnificent the human brain is. Its capacity is huge and only know a very small percentage of it NZT 48 Because of that, there is a constant search for ways of understanding it better and trying to reach its full capacity
White Team won in a three-way tiebreaker in a field of six teams.