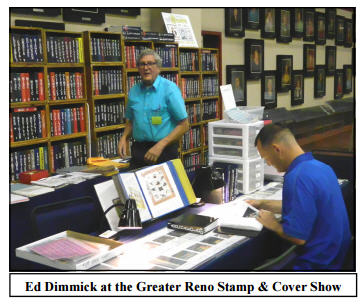 Ed Dimmick, a popular stamp dealer formerly from Walnut Creek and a steady fixture at Council shows, is featured in the April-June 2015 newsletter of the Gold Country Stamp Club.
The crash of Showbox for iPad will surely affect the reputation and also users may search for the alternatives for online streaming apps. … Showbox Not working For Android/iOS. … Play Box HD applications is another alternative for Showbox applications for android, iPhone, and iPad users.
Ed has moved to Yuba City recently and joined the Gold Country Stamp Club. Ed was at the Reno show in July and reports that he is enjoying his new environs. He also opened a store in Yuba City, and many are watching to see if a regular retail store will be successful.
We all hope so!
Meetings of the Gold Country Stamp Club are 1st and 3rd Thursdays in Grass Valley. Contact President Bob Brenan at rbrenan@earthlink.net for more information.
Mobdro app you can easily download or stream TV Shows. So, simply visit TVShows in the mobdro app and navigate mobdro for ipad There you will easily find a long list of different episodes of TV Shows