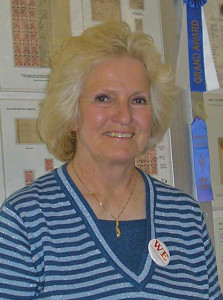 The Council of Northern California Philatelic Societies is pleased to present the following series of presentations (audio and visual) of talks given to the Collectors Club of San Francisco in 2007-2009. These memoirs are intended to preserve the rich philatelic heritage which thrives within Northern California reaching back nearly one half century. This is our contribution to preserve and honor the past as we philatelically grow into the future. Please enjoy the presentations!
As Past President of the CNCPS, I sincerely thank all of the participants for making this dream a reality. This will be an on-going attempt to gather and capture our philatelic history!
Vesma Grinfelds
President, CNCPS 2006-2009
Resources
A Glimpse at the Past: The East Bay Collectors   Club, 1946, Courtesy Marian Carver (Stamp Collecting Vol. 2 9-12-46) – click on either image to see full size.
Historical Talks presented by members of the Bay Area Philatelic Community