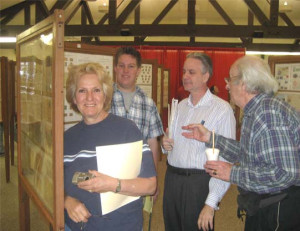 The Council of Northern California Philatelic Societies Judge Accreditation Program is just one of the many ways the CNCPS supports exhibiting in Northern California.    The CNCPS has a long tradition of training judges for local and regional shows.
The goal of the CNCPS judge is twofold:
Provide fair and objective assessment of exhibits and
Encourage and support the development of exhibiting at the local and regional level.
The below list includes CNCPS accredited judges and APS accredited judges who support local regional exhibitions.   We thank our Judges Emeritus,  who are no longer active,  for their many years of devotion to the philatelic community.
List of Judges
Name – City – Accreditation
Akthem Al-Manaseer – San Jose – CNCPS/APS
Jim Busse – Oregon – CNCPS
Larry Crain – Medford, OR – CNCPS
Nick Follansbee – Medford, OR – CNCPS
Vesma Grinfelds – San Francisco – CNCPS
Dzintars Grinfelds – San Francisco – CNCPS
Bob Grosch – Palo Cetro – CNCPS
Ed Laveroni – Los Gatos – CNCPS
David McNamee – Alamo – CNCPS/APS
Henry Marquez – San Francisco – CNCPS
Nigel Moriarty – Lafayette – CNCPS
Ralph Nafziger – Oregon – CNCPS
Behruz Nassre-Esfahani, San Francisco – CNCPS
Nestor Nunez – San Francisco – CNCPS
Paul Phillips – Palm Springs – CNCPS/APS
Daryl Reiber – Sacramento – CNCPS
Stephen Schumann – Hayward – APS
Additional Judging Resources
APS Judges Manual and Score Sheet